Women & Co.
Web & Mobile Sites, CMS, Social Media
Challenge
Women & Co. was a division within Citi that initially existed to inform, educate and assist high net worth women, ages 35-55, with aspects of their lives related to finances. This mission eventually expanded to include a larger audience of women who are younger, educated, tech-savvy and in the process of building their wealth. The goal for the Women & Co. website was to provide fresh, relevant and informative content including news, articles, advice and financial tips from experts and real women that encouraged conversations and self-improvement. To be effective we needed to make financial content – which can feel daunting – easy to scan, digest and navigate. Research about our audience indicated they have no time to waste, so capturing their attention quickly was considered paramount. The site strategy, content and design needed to take a stand and have stopping power. This required delivering financial content in a new way.

The site strategy also included design and development of a custom CMS with the purpose of keeping content fresh and relevant at all times. Batches of updated and new content including articles, videos, images, polls, and gadgets were rolled out weekly by the Women & Co. team via a powerful, easy-to-use custom interface created by PCD Group.
Idea
Via a new website, email newsletters, mobile site, plus integration with Disqus, LinkedIn, Facebook, Twitter, YouTube, Google+ and RSS Feeds we effectively positioned Women & Co. as the prime place for sharp and insightful financial content with a uniquely female point of view. The site was deliberately designed to deliver bold and clever content where, when and how the readers wanted to receive it. The site also provided intelligent content recommendations based upon the users' own custom selections and browsing history. As such, it was an early pioneer of such practices and helped pave the way for adoption of similar online approaches within Citi. Taking advantage of the design trends of the time and tailored toward the personality and interests of our users, we delivered an effective award-winning platform for Women & Co. to communicate and interact with their audience.
Features
Individualized experience based upon user's personal interests
Home page featuring constantly updating dynamic content
Rich content related to Careers, Family, Home, Lifestyle and Investments
Fun and interesting user polls
Integration with the Women & Co. Blog
Integration with Disqus, Facebook, Twitter, LinkedIn, Google+
RSS optimization>
Email newsletter subscription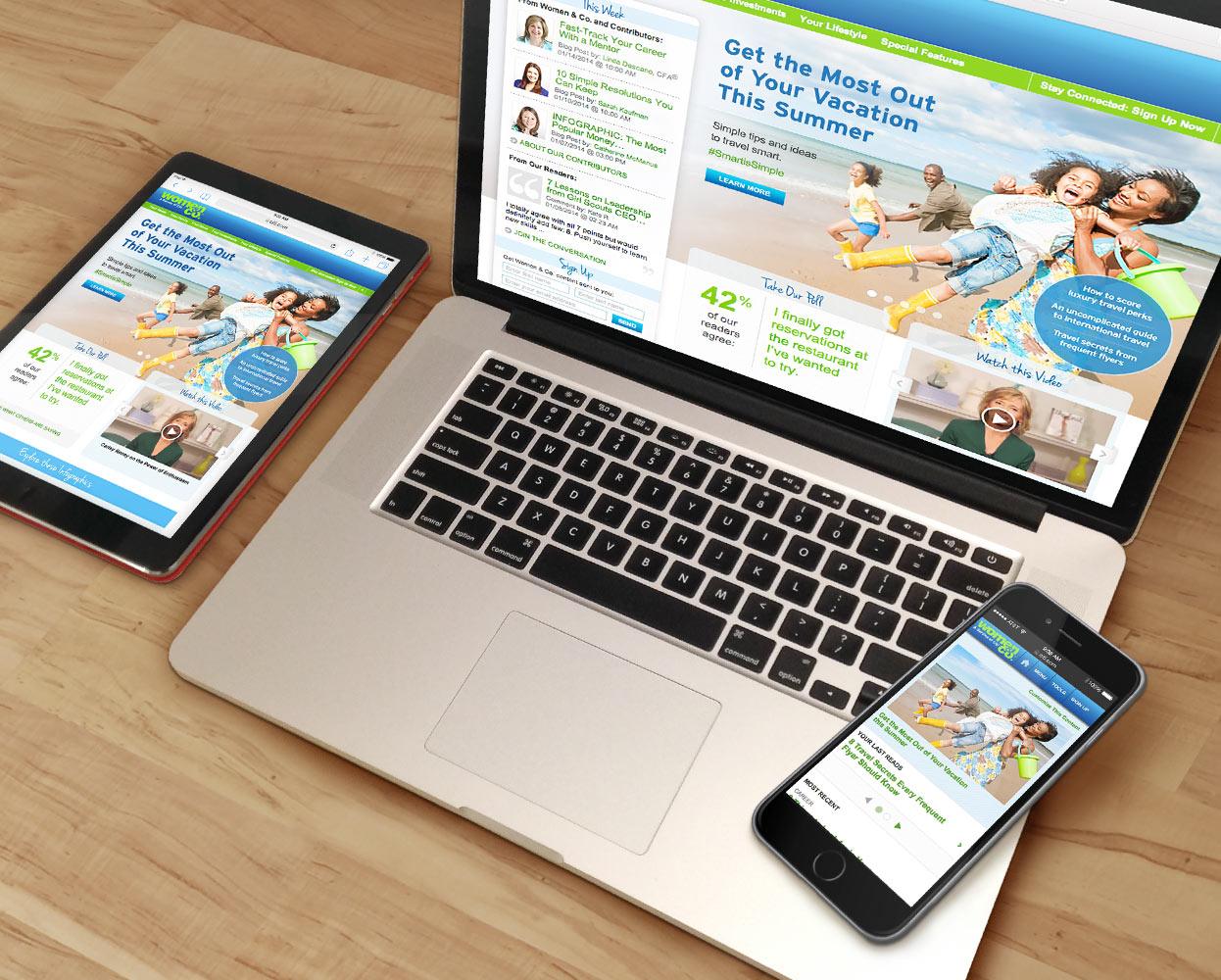 HOME PAGE WITH ENGAGING USER-SPECIFIC CONTENT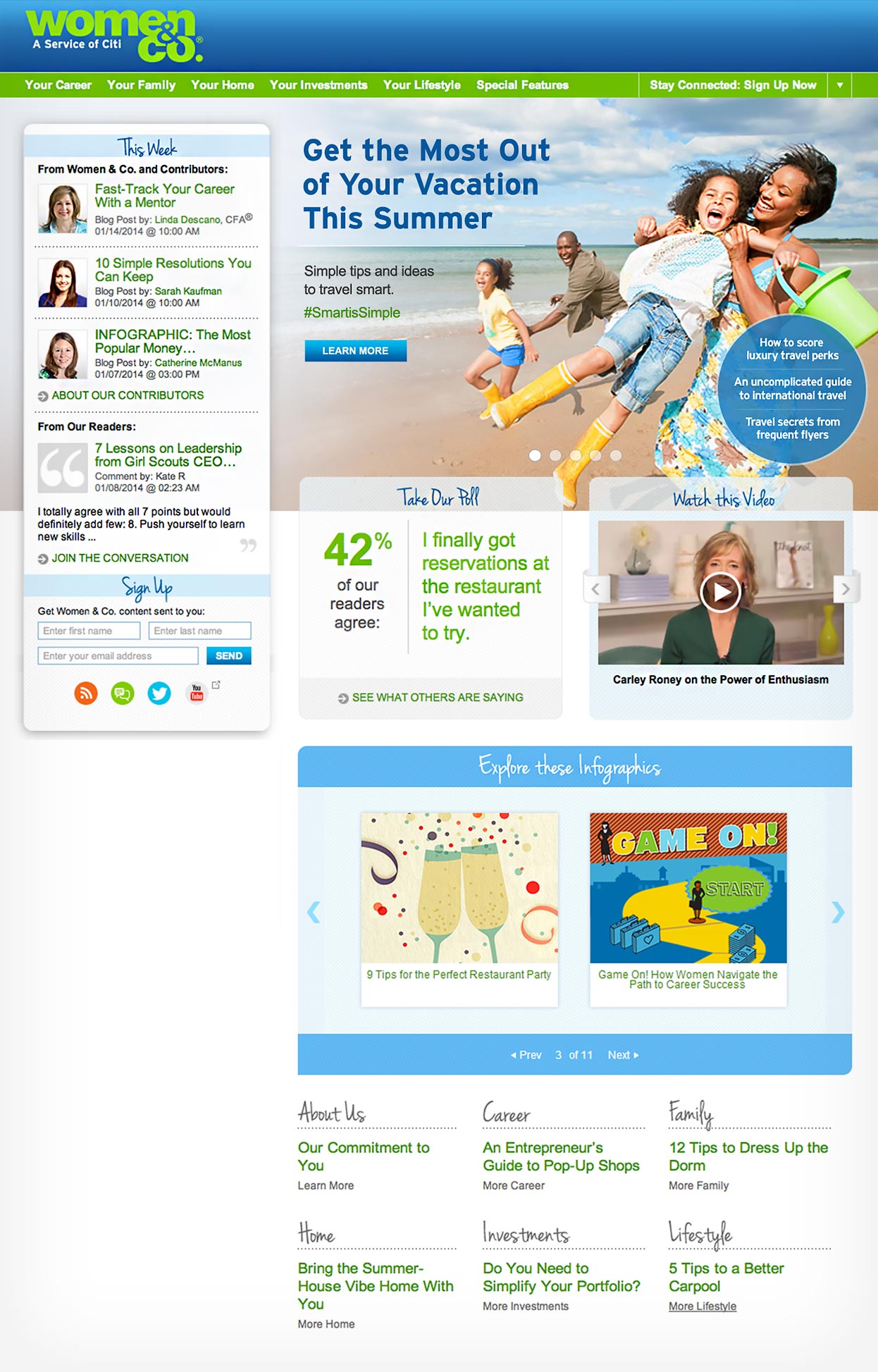 EXAMPLE ARTICLE FROM THE CAREERS SECTION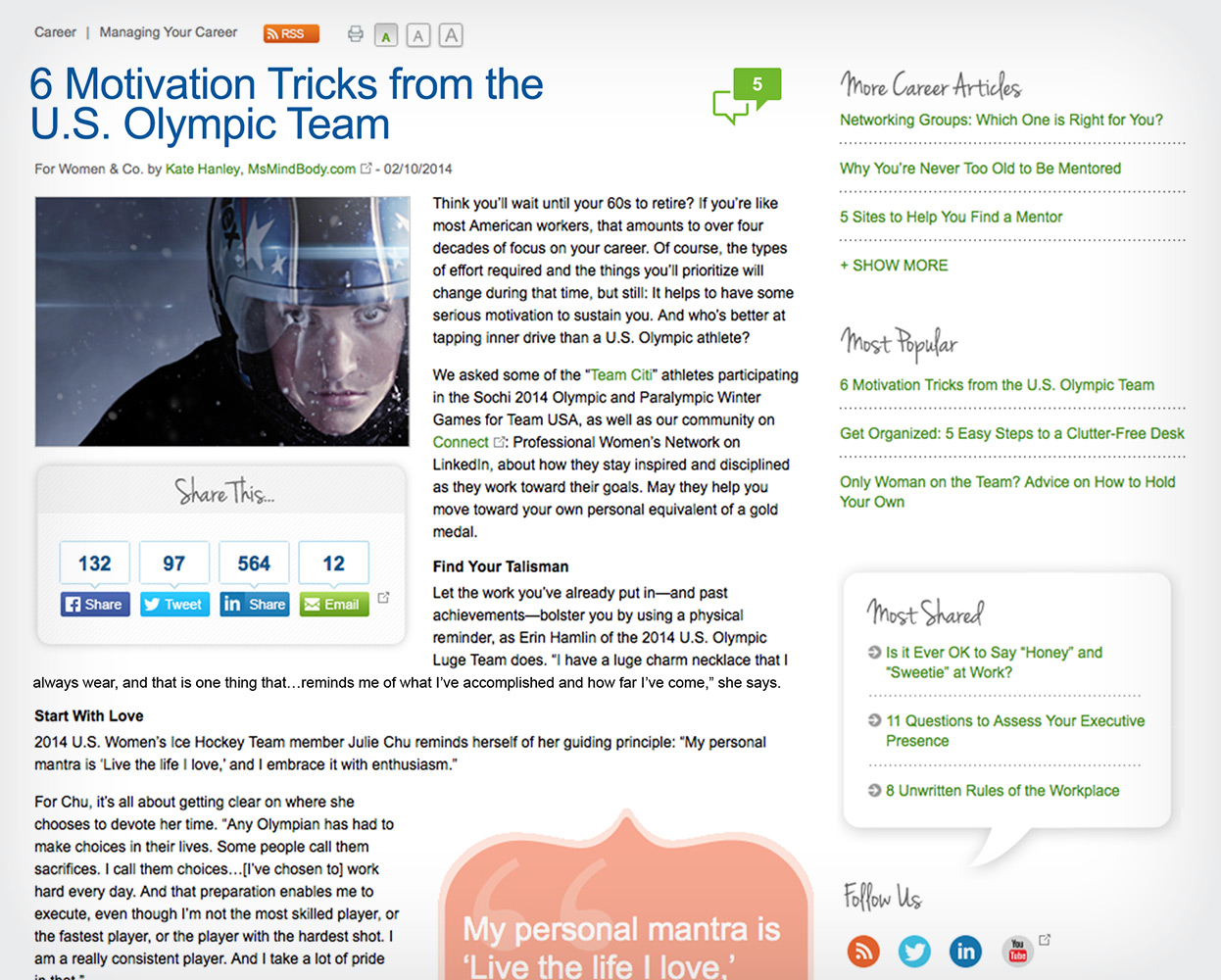 CUSTOM CMS FOR CREATING ARTICLES